Bio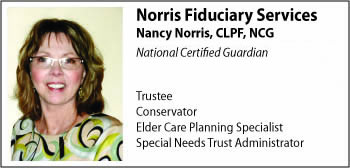 Professional Trustee, Special Needs Trust Administration,
Prudent Financial Management for Clients
Nancy is the Founder of Norris Financial and Norris Fiduciary Services. Her 25+ years of experience in financial services covers a broad spectrum including; being a California Licensed Financial Adviser providing financial and investment advice to hundreds of clients; Estate Planning, (working with Estate Planning Attorneys) & 10 years as a CA licensed Real Estate Agent & Loan Officer. She received her Professional Fiduciary Management Certificate from Cal State Fullerton and for the past 17 years, has focused her practice on providing Private Trustee/Fiduciary Services to families; including acting as Successor Trustee, Decedent Trust Administration, Special Needs Trust Administration, Elder Care Consulting, Trust and Estate Administration. Her professional career spans over 30 years, with experience in high-tech software sales, consulting, business management and marketing.
She acts as Durable Power of Attorney for: Health Care as a Health Care Agent for Clients and Durable Power of Attorney for financial matters.
She has hosted her own Bay Area radio talk show "Boomer Talk", view video clip on web-site. Nancy has also participated as a guest speaker on other radio shows. In addition, she has taught classes on Elder Care, investments and estate planning at the Professional Development Center of San Jose and gives educational talks to corporations and organizations in the Bay Area. Norris Fiduciary Services was awarded the contract to provide investment & financial training to the staff at Santa Clara County Public Guardian's Office in June 2011.
She's a member of National Guardian Association (NGA), Silicon Valley Bar Association, and Silicon Valley Estate Planning Council. She was a board member for 2 years of Santa Clara Chapter Professional Fiduciary Association of California. Nancy continues to build her expertise in Fiduciary Management with ongoing continuing education. She graduated as a Lay Chaplin from Cathedral of Faith over 15 years ago and previously volunteered at her church in the hospital visitation ministry. She was the first woman president of local Lion's Club. She's volunteered with Joni & Friends, (JAF) a ministry for people with disabilities, and Help One Child a foster parent organization in the Bay Area.
She has called the West San Jose Bay Area home for over 35 years and has a 35 year-old daughter, who is a registered nurse. Nancy now resides in Scotts Valley. Nancy has a  Maltese-Shih Tzu mix named Kouper and a cat named Gretta.
Contact Information
E-mail: nancy@norrisfinancial.net
(4 08) 294-5390
w w w . n o r r i s f i n a n c i a l . n e t